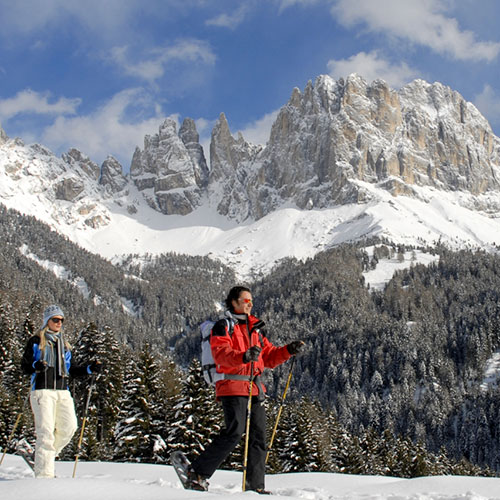 Snowshoeing beneath the Catinaccio
from 08.01.2022 to 20.03.2022
5/6 guided snowshoe hikes with mountain or hiking guide.

Monday: Snowshoe hike through the snowy winter countryside around Tires
Tuesday: Accompanied by an expert guide, hike with your snowshoes through the deep snow into the untouched Val di Camin  –  'cook eggs' on an open fire in the Capanna dei Pastori.
Thursday: Snowshoe hike with the mountain guide following the tracks of the Dolomite legends beneath the Catinaccio or to the Alpe di Siusi,
Friday: Exhilarating snowshoe hike through the labyrinth to Lago di Carezza, past the peaks of the Latemar group  – pure powder snow.
Saturday: Through meadows and forests with breathtaking views up to the Ortles and Brenta groups, the Zillertal Alps and the rock faces of the Croda di Re Laurino and Torri di Vaiolèt  – steeply upwards over the Haniger Schwaige – a pleasure for the body, mind and eye.
Wednesday: For a individual tour o with mountain guide, or a relax and shopping day into the nearby city of Bolzano!

Services included:
Winter hiking map for individual tours on avalanche safe, well-marked trails, snowshoe and pole rental, packed lunch, transfer ('SeiserAlm – Live-Card'), whirlpool, sauna, half-board. 7-day package.

from € 495,00 per person